You can be Rich Too! why should you buy…
You Can Be Rich With Goal-based Investing: A book by Subra & Pattu
What is the objective of the book?
Pattu and I conceived of a simple book – do read and look at our attempt to de-jargonise it – you have to tell us how successful we have been in doing it…
It is, what I refer to as an action book in the sense that it urges the reader to take action after pointing them in the right direction.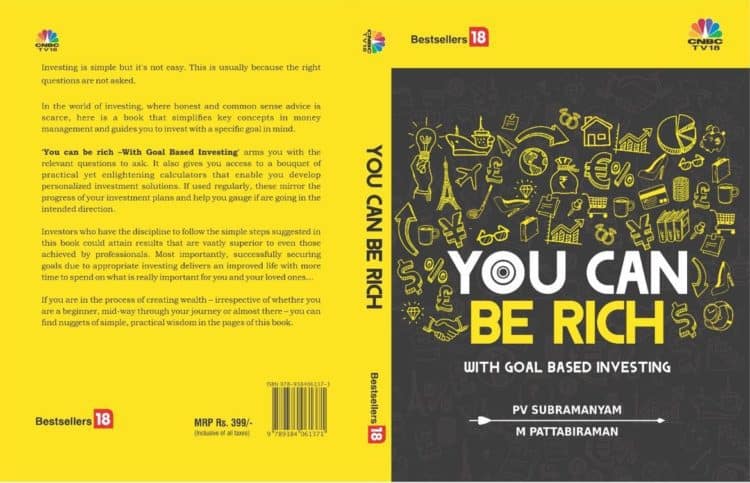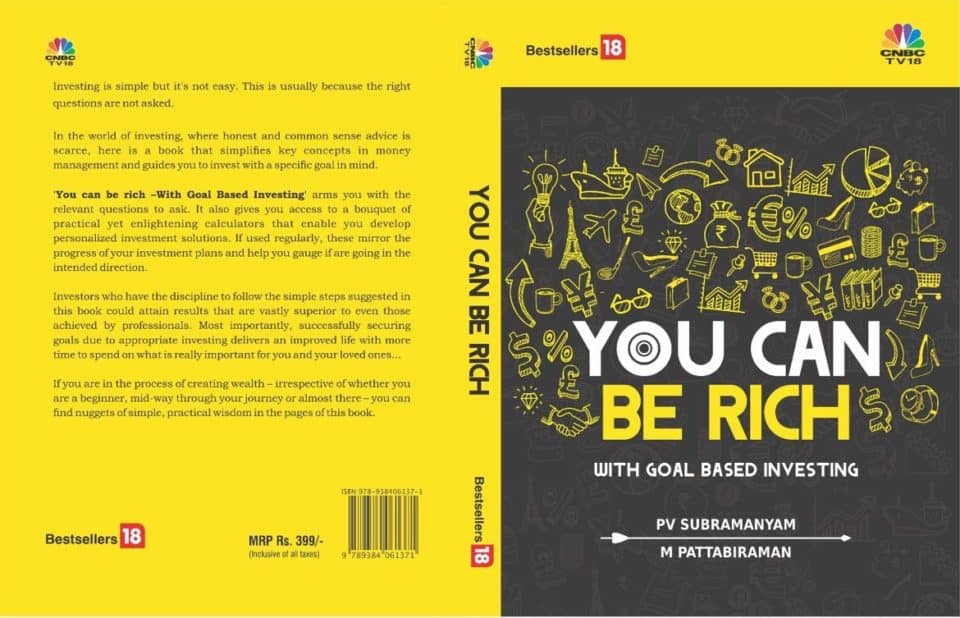 Who is the book suitable for?
The book is a crisp non-technical description of money management and does not contain a single equation (well just one, which is trivial to understand!).
All chapters will appeal to a beginner.
Those who understand the basics  and those who are experts will find the following particularly useful:
1 quantitative and qualitative selection techniques of equity and debt mutual fund
2 Investment portfolio Construction
3 The online calculators that are part of the book.
What does the book contain?
Unless we ask the right questions, we would be looking in the wrong place for the right answers. The first four chapters of the book focus on such questions:
1 Where are you today?
2 Where do you want to go?
3 What resources do you have?
4 How much risk can and will you bear?
Then the solutions are discussed (non-technical, no math).
5 Allocating your assets to minimise risk
6 A vehicle called mutual funds
7 Portfolio construction requires discipline not IQ.
8 Life and Health Insurance
9 Records to be maintained
10 Mistakes to be avoided
11 How to stay away from new/toxic products
Then follows a detailed description of equity and debt mutual funds and how to choose them.
There are about 9 calculators associated with the book. They will be hosted online and those who have purchased the book can access them.
Some of these illustrate the power of compounding, some for goal planning (a new version of the integrated financial planner is included) and tracking investments and goal value. Pattu has done his best to keep the calculators distinctly different from the ones found here.
The book contains a detailed description of the calculators. There is also a glossary that contains important investment terminology.
What does the book cost?
Rs. 399/- for the hard-bound version (170 pages). Bookadda currently offers it for Rs. 371 (no shipping charges).  An e-book version will be released soon.
Where can I order it from?
Amazon.inOpens in a new window Rs. 359. No shipping charges.
BookaddaOpens in a new window Rs. 371. A discount of Rs. 28. No shipping charges.
InfibeamOpens in a new window Rs. 307. Discount = Rs. 92. Shipping of Rs. 40 will apply if you just buy one copy ? (ie less than Rs. 500)
Sapnaonline.comOpens in a new window Rs. 371. No shipping charges.
Take your pick!
The book will be delivered in about a month or so.
Do get a copy for yourself or gift one to your friends/relatives. We eagerly look forward to your feedback.
Post Footer automatically generated by Add Post Footer Plugin for wordpress.